Affordable Adelaide Caravan Storage, boat storage & Car Storage
Your One-Stop Solution for Vehicle Storage and Trailer Storage
Ultimate Guide To Our Outdoor Adelaide Caravan Storage
Contact Our Local Adelaide Car Storage Experts
Limited Time Offer: Caravan Storage Adelaide!
Enjoy 50% off two month's storage fees on our outdoor parking bays
Secure your coupon today and move into Adelaide's cheapest caravan storage!
"*" indicates required fields
Compare Our Gawler Parking Bay Prices
Why Choose Our Affordable Adelaide Car Storage?
We Provide Excellent VehicleStorage Services in Gawler and Adelaide's Northern Suburbs
Unmatched Customer Service
At Storage Lord, we are committed to providing top-notch service and self storage expertise. Our goal is to provide unmatched value for your hard-earned money.
Secure Storage Units
Our self storage units offer 24/7 access, gated access, security CCTV cameras, and flood lighting. We prioritise the safety and security of your belongings.
Book and Pay Online
Our online customer portal simplifies the storage rental process. Enjoy automatic bill payments, emailed invoices, and no additional move-in fees when you rent a storage unit online!
Choose Adelaide's Best Vehicle Storage
At Storage Lord – Gawler, we deliver unparalleled vehicle storage solutions for the residents of Northern Adelaide. We're a family-owned business with over a quarter-century of experience in providing dependable outdoor parking bays. The security of your vehicle isn't just our mission – it's our top priority.
Our outdoor vehicle storage bays are fortified with advanced security measures, ensuring a safe haven for your vehicles. The features include:
With two different bay sizes at the most competitive vehicle storage prices in Adelaide's Northern Suburbs, Storage Lord – Gawler has become a trusted name for vehicle storage.
Whether you need storage for a small car or a large motorhome, we have a solution. Our dedicated team is ready to guide you through the various options to ensure you find the perfect fit for your vehicle. Contact us today to learn more about our comprehensive range of parking bays.
Adelaide Caravan Storage: Reliable and Affordable
The importance of safe and secure caravan storage is often overlooked until you face space constraints or security issues at home. Our commitment to providing an affordable solution to this problem has made us the leading name in caravan storage in Adelaide.
Our spacious 3.1m x 8.5m storage bays are designed to accommodate both campervans and motorhomes comfortably. The secure facilities feature continuous surveillance, electronic gate, and roller door access, providing complete peace of mind. With prices starting from just $99 per month, you get excellent value for money while enjoying top-class service.
Whether you're planning a holiday or returning from an adventurous trip, your 'home on wheels' is always ready and secure in our storage bays. Embrace the convenience of storing with us – reserve your caravan storage bay now!
Adelaide Boat Storage and Boat Trailer: Premium Storage Solutions
Finding a safe and secure location for your prized boat or trailer is no longer a challenge with Storage Lord's outdoor boat storage facilities in Adelaide. Our 3.1m x 8.5m storage bays are tailor-made for your marine storage needs, be it a small boat or a large trailer.
With 24/7 surveillance and rapid access, you can set sail on a new adventure at any time, knowing your boat is secure and well-protected in our storage bay. We offer these premium facilities at an affordable price of $99 per month, ensuring you receive exceptional service without breaking the bank.
Dock your worries about storage and focus on charting your next journey. Secure your boat's safe harbour with us – reserve a bay online now!
Adelaide Car Storage and Motorcycle Storage: Safe and Accessible
Every vehicle owner understands that a car or a motorcycle isn't just a mode of transport – it's an investment that demands care and protection. This belief drives us to provide top-notch storage solutions for your vehicles.
Our spacious 2.5m x 5.5m vehicle storage bays are perfect for both car storage and motorcycle storage. Featuring around-the-clock surveillance and convenient access, we keep your vehicle protected and ready for the road at all times. Starting at just $69 per month, our storage solutions strike a balance between reliability and affordability.
Ensure your vehicle is parked safely when not in use – reserve your bay online now and ride stress-free!
Caravan Storage: 5 Essential Steps for Storing Your Caravan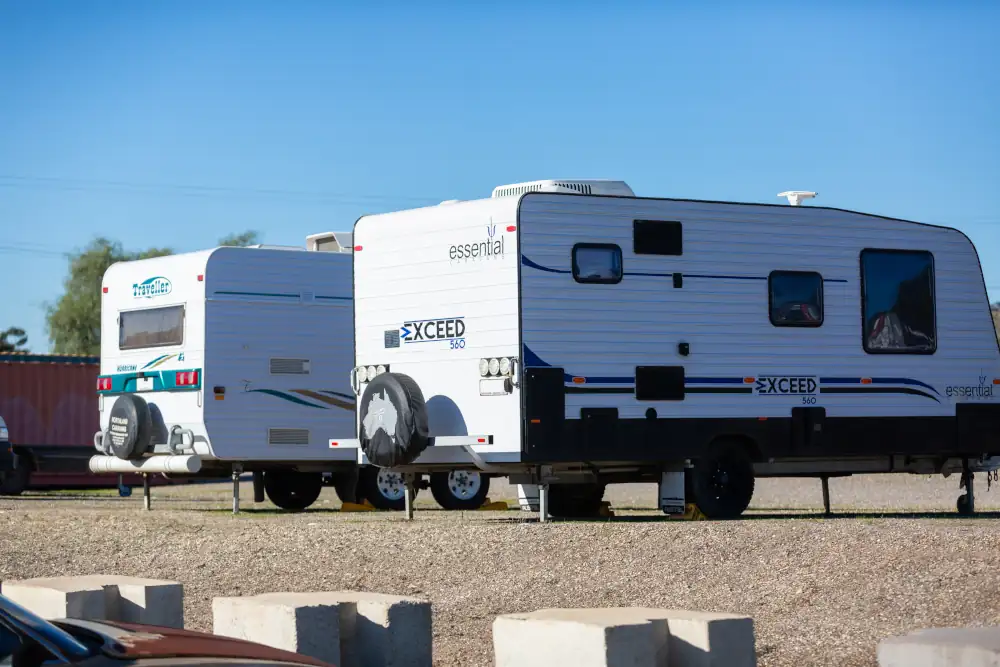 Storing your caravan correctly plays a crucial role in ensuring it stays in top condition for your next adventure, thus protecting your investment and preventing potential damage. This involves several meticulous steps:
Total Time: 25 minutes
Step 1: Comprehensively Clean Your Caravan
Start with a comprehensive cleaning session. This should not be limited to the outside but extend to the caravan's interior as well. Clear out all the corners, cupboards, and crevices. A clean caravan is less attractive to pests and helps prevent the establishment of potential nests. Furthermore, a thorough wash and wax of the exterior will help to avoid any corrosion due to dirt, grime, or salt residue that may have built up over time.
Step 2: Drain Fluids From Your Caravan
Secondly, it's essential to drain all the fluids, including water from tanks and pipes. This is an important step to avoid any condensation damage or mould growth that can occur if water is left sitting for prolonged periods. Draining prevents the risk of freezing in the colder months and inhibits bacterial growth in warmer temperatures.
Step 3: Unplug Your Electrical Devices
Thirdly, ensure all electrical appliances are unplugged. This includes everything from your refrigerator to smaller appliances. By doing this, you're preventing any unnecessary power drain and mitigating the risk of electrical faults that may occur when appliances are left inactive for extended periods.
Step 4: Don't Forget To Remove Food And Perishables
The next crucial step involves the removal of any perishable items. Leaving such items in your caravan can lead to unpleasant surprises such as mould, unpleasant smells, or even pest infestations. Clearing out your cupboards of any food, drinks, or perishable goods ensures your caravan will be fresh and ready for use when you next need it.
Step 5: Invest In A Quality Protective Cover For Your Vehicle
Finally, protect your caravan from the elements with a high-quality canvas tarp. A good cover can guard against a variety of potential risks including dust, UV damage, and weather-related issues such as hail. By shielding your caravan, you're ensuring it stays in the best possible condition, ready for when you next hit the road.
By following these steps, you're ensuring your caravan remains a source of joy and adventure for years to come.
Support Hours
| | |
| --- | --- |
| Monday | 9:00 AM – 5:00 PM (SA Time) |
| Tuesday | 9:00 AM – 5:00 PM (SA Time) |
| Wednesday | 9:00 AM – 5:00 PM (SA Time) |
| Thursday | 9:00 AM – 5:00 PM (SA Time) |
| Friday | 9:00 AM – 5:00 PM (SA Time) |
| Saturday | 9:00 AM – 1:00pm (SA Time) |
| Sunday | Closed |
Adelaide's Caravan Storage Facility in the Northern Suburbs
We have outdoor parking bays for rent for customers looking for great value vehicle storage in Adelaide's Northern Suburbs. Just 40 minutes north of Adelaide's CBD, we are conveniently located on Main South Road, 3 minutes past Munno Parra Shopping City and 5 minutes before you reach Gawler.
Andrews Farm | Bibaringa | Blakeview | Brahma Lodge | Burton | Craigmore | Davoren Park | Davoren Park North | Davoren Park South | Direk | Elizabeth | Elizabeth Downs | Elizabeth East | Elizabeth Grove | Elizabeth North | Elizabeth Park | Elizabeth South | Elizabeth Vale | Evanston | Evanston Gardens | Evanston Park | Evanston South | Gawler | Gawler Belt | Gawler East | Gawler River | Gawler South | Gawler West | Green Fields | Hillbank | Hillier | Kudla | Mawson Lakes | Munno Para | Munno Para West | One Tree Hill | Para Hills | Para Hills West | Para Vista | Parafield | Parafield Gardens | Penfield | Penfield Gardens | Reid | Roseworthy | Salisbury | Salisbury Downs | Salisbury East | Salisbury North | Salisbury Park | Salisbury Plain | Sandy Creek | Smithfield | Smithfield Plains | Uleybury | Valley View | Virginia | Waterloo Corner | Willaston
Storage Lord acknowledges the Kaurna Meyunna (People) and Nation as the Traditional Owners and Custodians of the land on which our storage facility is built, and pay our respects to their Elders past and present.
Common Self Storage Questions.
Simple Answers